On Tuesday, 10th October 2017, the entire plastics value chain gathered in the Port of Antwerp to formalize a unique collaboration in signing the Operation Clean Sweep® pledge. Together, the plastics producers, logistics providers and transporters formalized their intent to increase their efforts to fight against pellet loss.

In Europe, Antwerp is the leading port in plastic pellet production, handling and distribution. This makes it an ideal location to launch a new collaboration between the local companies engaged in pellet loss prevention. The Port of Antwerp authority (PoA), essenscia (Belgian Federation for Chemistry and Life Sciences Industries), Voka (Chamber of Commerce Antwerp-Waasland: Industry Platform and Alfaport) and PlasticsEurope came together to formally join forces and implement a common methodology of pellets containment at each step of the production and handling process, including transport, logistic operations and shipping. This will be done under the umbrella of the Operation Clean Sweep® (OCS) programme.
Some of the companies present in the Port of Antwerp have already implemented measures to prevent pellet losses. The collaboration of all partners handling plastic pellets will now boost these efforts and is key to achieve this common goal of zero pellet loss. The commitment was signed by Patricia Vangheluwe, Director Consumer & Environmental Affairs of PlasticsEurope, Yves Verschueren, Managing Director of essenscia, Marc Van Peel, Chairman of the Board and President at Antwerp Port Authority and Sofie Coppens, Adviser Environment and Sustainability at Voka.
With this official collaboration, the plastics industry emphasises its commitment and will support the PoA authority in its efforts to screen and monitor the port for possible hotspots of pellet accumulation. In parallel, the plastics industry acknowledges its responsibility and will perform regular clean-up actions on identified accumulation points.
More information can be found in the PlasticsEurope OCS Port of Antwerp activity report 2017.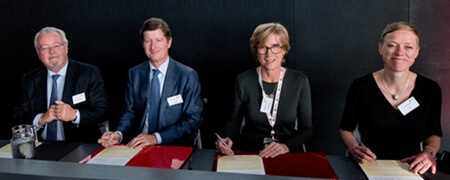 From left to right: Marc Van Peel (Port of Antwerp), Yves Verschueren (essenscia), Patricia Vangheluwe (PlasticsEurope), Sofie Coppens (Voka), signing the formal collaboration.